I just want to share with you some of the lovely celebrity ladies who I personally think have the weave game on LOCK!  These are the ladies I look to for inspiration when styling my own hair as well as making sure my clients look Hollywood fabulous!
Tasha Smith- We all drooled over this chicks hair in "Why Did I Get Married?".  Her weave is ALWAYS on point! I love that it's so natural looking and it has great movement. No Helmet head over here!
Teyana Taylor- Not really considered a celebrity, but I love this girl's hair! She often wears it HUGE, curly and wild. I freakin Love, Love, LOVE it! I think the closest I get to this is Bohyme Brazilian Wave :D
Taraji P. Henson- She has taken total control of the BOB and refuses to give it up! I have countless clients that come to me asking for a Bob like Taraji's. She's definitely quite a few Hit and Miss styles, but she definitely OWNS this look.  See her WORKIN' it in a few different places.
Although she's well-known, but not a celebrity, I just also wanted shine a quick spotlight on the First Lady- Michelle Obama……………………………… Oh….. please don't tell me you didn't know she wears a weave too? LOL. Uh, Yeah. She does. She's not necessarily a hair icon for me, but I will definitely give her props for this fashionable look!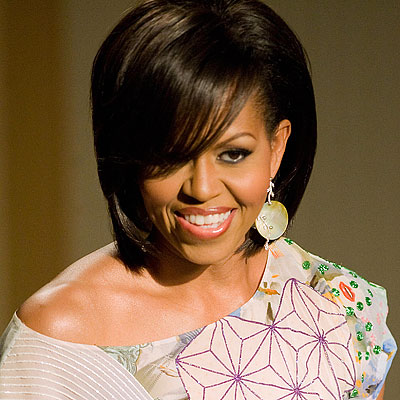 Hope you like my picks!— Ciao!